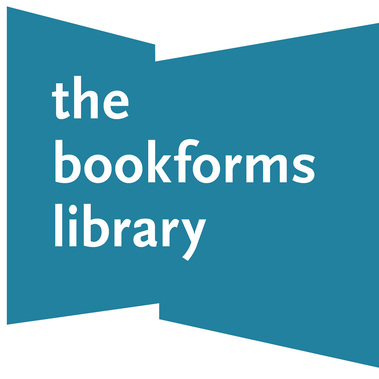 The Bookforms Library is a non-circulating library of artist's books, zines, and other ephemera. It is open to all on the last Friday of each month from 12-2:30pm during the semester, or by appointment (khaas@wsu.edu). It is located in room 7061 of the Fine Arts Center at Washington State University.
What is an Artist's Book?
The Bookforms Library is a collection of artist's books, zines, comics and other printed objects and ephemera. Artist's books are simply works of art in book form and provide unique opportunities for artist's to explore text, images, sequence, time and interaction. This expansive field of artistic production encompasses handmade and unique books, books that are hand printed in small editions, or books produced by more conventional commercial printing methods. The collection contains a wide range of formats; from zines produced on single photocopied sheets, to handmade collaged books, to elaborately produced books with unique formats, to decks of cards and other objects.
The Collection
For approximately 25 years I have been collecting artist's books, and I am still thrilled when I discover these surprising, interactive and affordable works of art. As my collection grew into something more substantial, I realized it needed to be a resource for students and other artists, or those simply curious about this under-recognized but endlessly interesting art form. The Bookforms Library follows in the spirit of artist's books themselves which are meant to be shared and experienced first-hand. The collection currently contains approximately 250 items that date from the 1980's to the present.
October-November 2023
Toiletpaper Magazine, Blue Girls by Lain Bundalian, and the Power Washer Zine.
Issues 4-7 of the Power Washer Zine by Todd Irwin and Josh Dannin, asks soft questions and thinks hard thoughts about screen printing. Each issue is jam-packed with information and education for printmakers everywhere with its mis-registered humor. Lain Bundalian, is a queer AAPI designer & illustrator from the mountains of O'ahu, Hawai'i, and a BA student at Washington State University, majoring in Digital Technology and Culture with minors in psychology and creative writing. Their zine Blue Girls is the inaugural volume from an anticipated series of zines showcasing their illustrations. Toiletpaper Magazine is created and produced by Maurizio Cattelan and Pierpaolo Ferrari born out of their love of images, art, fashion, advertising, and cultural critique. The wordless pages of this biannual publication are slick, vivid, surreal, and often unnerving.
September 2023
There will be some recent additions to the collection out by Andrew Kozlowski, Oli Watt, and Gio Castranova. Still Missing, by Gio Castranova, is a beautifully designed art book exploring the folk art of lost & found pet posters. Between 2010 and 2013 Castranova collected over 2000 of these posters in the Los Angeles county area, and this book showcases the charm, sadness, and humor of these ubiquitous posters. Oli Watt's 101 Decoys, documents the sculptures he made in 2020 inspired by Chicago artist Roger Brown's collection of duck decoys. Made from all manner of found materials, this project is an exercise in repetition, experimentation and persistence. Andrew Kozlowski's Sketchbook as Textbook is a collection of comics that gives consideration to the power and significance of keeping a sketchbook. An inspiring read for the seasoned artist or student alike.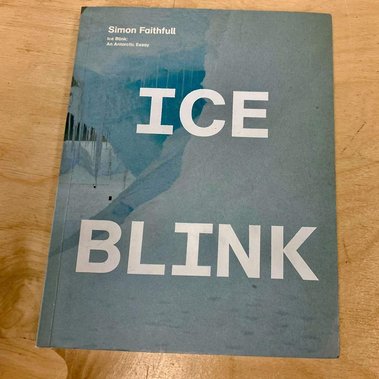 January 2023
Don't let the snowy weather keep you from visiting The Bookforms Library tomorrow, or from browsing artist's books about snow and ice! This month's selections features On Thin Ice by Paula McCartney, Ice Blink by Simon Faithfull, and Mount Fuji 360° Book by Yusuke Oono. McCartney's book features a die cut cover and photograms revealing a delicate but frigid cosmos. Faithfull's book references the light reflected from ice pack in the polar regions, and documents his two month journey in Antartica through digital drawings, photographs, video, journal entries, and exhibitions. Finally, Oono's Mount Fuji is a sight to behold as the book opens to create a snow capped 3-D world.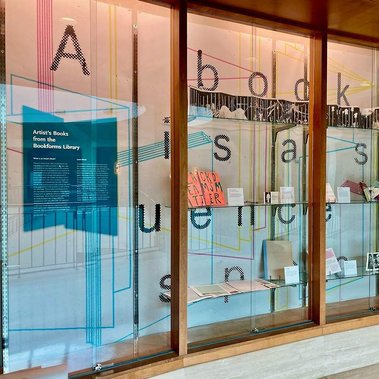 The Bookforms Library is on display in the Washington State University Library!
I have set up a display about artist's books from the collection that will be on display in the library rotunda until November 2022. Come on by, and come over to the Bookforms Library in the Art Building to see more!
The featured books for April - the final selection for the Spring 22 semester - are Twentysix Gasoline Stations by Michalis Pichler, A Field Guide to Weeds by Kim Beck, and Do It from Independent Curators Incorporated. Pichler's book is a homage to Ed Ruscha, the artist who is often credited with launching the field of contemporary artist's books in the 1960's. Despite the title there are only 16 gas stations depicted in Pichler's book, which are all from the same German chain of stores, with the remaining 10 represented by a quote from Ed Ruscha. Kim Beck's book is the perfect artist's book to usher in spring. Although the title and form of the book suggest a useful guide, what one finds inside is both the beauty and the tenaciousness of weeds, all sprouting from the gutter of the book itself. Lastly, the book Do It is a set of short instructions from 50 artists for artworks that you can do yourself. Inspired by conceptual art, these instructions challenge the idea of the author while opening up multitudes of interpretation. Come by and try a few for yourself!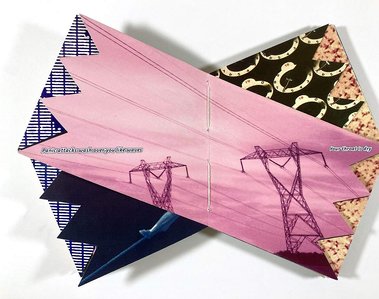 Featured Books for March
This month's featured books are Philip Zimmerman's High Tension, The 2nd volume of Critical Theory Cocktails by Aggie Toppins, and Bad Driving by Louis Porter. Phillip Zimmerman's book High Tension is as relevant now as when it was created for the festival Montage '93. Dozens of symptoms of stress from everyday life are identified in this book, with some questionable solutions offered to alleviate the pressures we experience from our fast paced, technologically saturated lives. The book is quite literally an explosion of information, with the pages bound at angles to one another with jagged die cut edges. It is a book everyone can identify with these days. Critical Theory Cocktails pairs new and classic cocktail recipes with short introductions to various philosophical themes. This 2nd volume of 4 touches on alienation, gender, and other subjects for a stimulating mixture of heady thinking and boozy tippling. The only time photographer Louis Porter drove a car he crashed it, so it is quite appropriate that his book documents the aftereffects of bad driving. His book of sunny photographs reveal small incidents of damage caused by auto accidents that can be found throughout the built environment.
February's Featured Books

This month's featured books are Black Art Notes edited by Tom Lloyd, Elements of Me by Adam Pendleton, and We Are All Speaking at the Same Time by Lukaza Branfman-Verissimo. Black Art Notes is a reprint of a collection of essays originally published in 1971. It was conceived as a critical response to the Contemporary Black Artists in America exhibition at the Whitney Museum of American Art but grew into a "concrete affirmation of Black Art philosophy as interpreted by eight Black artists," as Lloyd notes in the publication's introduction. Adam Pendleton's book was published in conjunction with this exhibition at the Isabella Stewart Gardner Museum in Boston. He refers to his art as "Black Dada," a critical articulation of blackness, abstraction, and the avant-garde. Finally, Branfman-Verissimo's risograph printed coil-bound book gives a graphic voice to the narratives surrounding Black and Brown, queer, trans, and gender non-conforming lived experiences.
January's Featured Books (2022)
This month's featured books are COVID-19: Labor Camp Report by Piotr Szyhalski/Labor Camp, Fences by Yuriko Katori, and Collegiate Minds by Dustin Hall. Szyhalski's book documents a daily drawing practice that began with the March 2020 lockdown until the 2020 US Presidential Election. His designs viscerally capture the political, cultural, and existential crises witnessed throughout the year. Katori's elegant accordion fold book explores our tenuous relationship to nature through fragmented bodies. Lastly, Hall's book, produced while a student at WSU, contrasts vintage photographs of idyllic and nostalgic scenes of college life with the text found carved into the desks of the Holland and Terrell Library on the WSU campus.